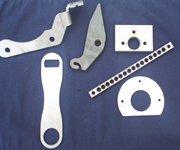 Welcome!
Ultra-high pressure waterjet or abrasivejet is the preferred process for cutting any material; whether delicate as glass, or tough as steel five inches thick. It's a precise cut every time.
With the largest cutting area in the Spokane region, Spokane WaterKnife is equipped for large or small jobs; not just in volume of pieces but large or small objects too.
Since 1995, Tom Ingram, owner and master craftsman, has been applying his art and expertise through industrial applications, signage, flooring and more.

Why Waterjet?
The answer is simple. Waterjet is the most flexible and cost-effective cutting solution available. Waterjet cutting gives you the most precise and accurate cut possible, and eliminates heat-affected zones, toxic fumes, recast layers, work hardening, and thermal stress.